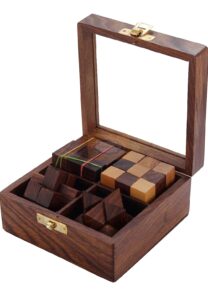 4-in-One Wooden Cube Puzzle Games Set 3D Puzzles Brain Teaser Game, 1 unit
Minimum Manufacturer Age Recommended
Challenging fun this set includes a total of four 3d puzzles diagonal burr, soma cube, snake cube and interlocking blocks

Ready to travel 3d puzzle games can you put the small pieces of wood together to create the three-dimensional shape

So easy to store wooden storage box with glass lid is included to keep the puzzles separated and organized, height-2.5 Inch, length-4.5 Inch, width-4.5 Inch, inner depth-1.5 Inch, weight-535 grams

Handsome addition to a desk or table beautiful Indian sheesham wood makes this game worthy of displaying

Fully handcrafted made by skilled woodworkers of north India
Wooden Puzzle Game
4-in-One Wooden Puzzle Games Set 3D Puzzles for Teens and Adults
Wooden 4-in-One Puzzle with Glass Lid
So it is easy to store wooden puzzles on Box with glass lid separately and in an organized way, the dimensions of the box are
height-2.5 Inch,
length-4.75 Inch,
width-4.75 Inch,
weight-535 grams
Portable
Ready to travel 3d puzzle games can you put the small pieces of wood together to create the three-dimensional shape
Beautifulness, challenging, sturdy all in one on same Piece
What's better than having a puzzle game at the ready to help you pass the time? How about having four challenging games? The 4-in-one wooden puzzle game set gives you four puzzle games that you can play at home or at the office. Perfect for passing the time on a rainy day, taking a break from the stresses of your day and keeping your mind sharp, this set is sure to delight any adult or teen. The puzzles included in the 4-in-one wooden puzzle game set are three dimensional building games. Each one consists of a wooden pieces, which are designed to fit together to create a finished three-dimensional shape. Solving the puzzle takes patience and skill and you can enjoy putting the pieces together again and again. The set includes a diagonal burr, a snake cube, soma cube and interlocking blocks. With the 4-in-one wooden puzzle game set, you'll never have to worry about pieces becoming lost or damaged. The set includes a wooden box with four compartments, so that you can keep the loose pieces or the assembled puzzles inside until you're ready to play again. The box is made from the same high quality Sheesham wood and glass lid. Constructed entirely by hand, the 4-in-one wooden puzzle game set shows off Indian woodwork at its finest. This set is so attractive that it can easily be used as a decoration in a den, family room, office or waiting room. It's also a favorite table game for cafes and coffee shops. Because the pieces and the storage box are handcrafted, you're guaranteed to be impressed with the quality of the game set. See if you have what it takes to assemble four challenging 3d puzzles or put someone special to the test. Order a 4-in-one wooden puzzle game set for yourself or to give as a gift for any occasion.
Made in India
Fully handcrafted and made by skilled woodworkers from north India
Q & A
Q & A
There are no questions yet
Estimated Delivery:
Dec 01 Dec 05
people
are viewing this right now