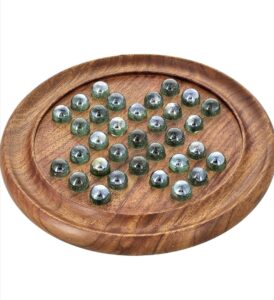 Wood with Glass Marbles Brainvita Unique Game 9″ – Best Gift for Kids, Teens & Adults Made in India | Wooden Solitaire | Wooden Chinese Checker Game (Green)
22.9 x 22.9 x 4.8 Centimeters
PRODUCT DETAILS – Material: Game board is hand fashioned from high quality Rosewood. Dimensions: 8.75″ x 8.75″ x 1″. Includes game board and 33 wooden marbles.

GREAT FOR KIDS – This classic board game version of Solitaire is a great educational activity to introduce children to games of strategy and critical thinking. Your kids will enjoy hours of fun with this addictive game!

FUN FOR ADULTS – This vintage style 1 or 2 player game is just as fun for teens or adults as it is for children! The set comes with a game board and 33 marbles so that you have everything you need to play.

STURDY AND WELL-MADE – Constructed from strong Pine wood, this beautifully designed old-fashioned table top activity is a long-lasting game that the whole family will enjoy playing for many years to come!

PLAY ANYWHERE – This compact board game is conveniently travel-friendly, making it a great activity to bring along on trips. It also makes an excellent addition to your office, game room, or kid's playroom.
Rules:
Remove the central hole peg before you begin play the game.

The player takes a ball and jup's horizontally or vertically, but never diagonally, over the adjacent ball to the empty hollow beyond it.

The ball that has been jumped over is removed from the board. The player repeats this until it is no longer possible to jump over any more balls.

The game level: The last remaining 6 or more pieces is "general"; The last remaining 5 pieces is "good "; The remaining 4 pieces are "very good"; The remaining 3 pieces are "smart"; The remaining 2 pieces are the "top"; The remaining 1 pieces is "master"
Important information
Safety Information: 
:
Keep away from water and its substitutes Like soft drink, tea & coffee etc.
One Solitaire Board with 33 Glass Marbles
Q & A
Q & A
There are no questions yet
Estimated Delivery:
Dec 02 Dec 06
people
are viewing this right now